Weiland is Made in USA
Associated With:


Weiland Products
Weiland Products redefine boundaries. Huge openings, seamless transitions and outstanding performance. Discover stunning ways to connect the indoors to the outside with Weiland's custom sliding doors and windows. Creative freedom is in your hands.
Weiland Quality
Exceptional craftsmanship and design is crucial to a successful project. Weiland goes to great lengths to achieve exceptional results.
Made In USA
All Weiland are built and tested in California, USA.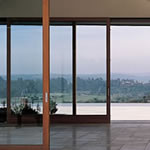 The Liftslide
Lift and slides are large sliding glass walls that can be built in straight, corner, or curved configurations. Weiland has taken the lift and slide door system to new configuration, size and performance limits. Active moving door panels lift onto rollers and glide smoothly on only a 3/16" flush track. When lowered, the weight of the door, a special gasketing system and multi-point locking provide excellent weather resistance and security. The Weiland Liftslide creates flexible options for huge openings. Incorporate a Weiland Liftslide lift and slide in custom projects, including curved, corner, pocketing, jamb and track designs.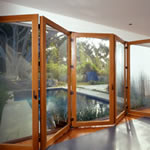 Weiland Folding Doors
Folding doors maximize the size of an opening. Weiland builds standard bifold and Beefy Bifold door systems. Weiland folding doors are moving glass walls that help maximize the size of a wall opening and can enhance any view. Because folding door panels stack perpendicular to the wall when fully open, they're a great way to optimize space when pockets are not possible. Weiland builds standard bifolds up to 10' tall with individual panels over 3' wide. Smaller sized standard bifold specifications are often used as a unique window solution for kitchens or bar areas. Wood, aluminum and aluminum wood systems fold either inward or outward, for added design flexibility. Weiland Beefy Bifold is a proprietary folding door designed for larger openings up to 13.5' in height with individual panel widths up to 5' (depending on configuration). The Beefy Bifold's panels pivot on their center to efficiently use space, while the minimal bottom track creates a smooth transition between the indoors and outdoors. Versatility and size to maximize your space.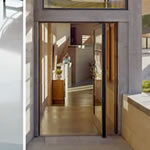 Weiland Pivot Doors
Weiland pivot doors can be used in a variety of ways and are often seen in dramatic entrances. Pivot doors are designed for large, spectacular openings. Think bold and non-traditional. Instead of hinging off of a jamb, pivot doors rotate on a pivot box and can swing in, out, or both in and out. Available with the same profile options as Weiland Liftslide Lift and Slide Glass Walls and Weiland Beefy Bifold Door Systems.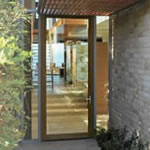 Weiland Swinging Doors & French Doors
Weiland swinging doors and French doors compliment nearby liftslide or folding doors. The Weiland French door is built with the same sash profile as Weiland Liftslide Lift and Slide Glass Walls and Weiland Beefy Bifold Door Systems. It is available in all aluminum, aluminum with a wood cladding on the interior, or all wood. The French door comes in heights up to 13-1/2 feet and widths to 4 feet and compliments liftslides or folding doors.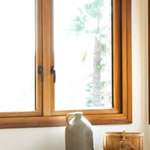 Weiland Windows
Complete your design with Weiland Windows. Custom windows with distinctive European designs, superb performance ratings and the same passion for quality inspired by the exquisite beauty of handmade furniture. Complement our sliding door systems with fixed, casement, awning, hopper, sliding and tilt-turn windows. Windows are available in a variety of sizes and configurations and are available in aluminum, wood, or aluminum with wood cladded sash options.
Weiland Hardware
Weiland hardware is engineered for dependability, durability and smooth operation. Weiland works closely with European vendors, some with over 100 years of history, to provide the best components available. Backed by rigorous testing and experience with custom applications, Weiland hardware choices give thse doors and windows the feel of luxury and effortless operation.
Weiland Flush Handle
Weiland Flush Handle


design42 New Media Web Design
1804 Meadowbrook Terrace
Hendersonville NC 28791